National Rifle Association
From Gunsopedia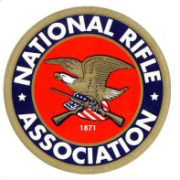 This article concerns the National Rifle Association of the USA. For the UK organisation, see National Rifle Association of the United Kingdom
The National Rifle Association, or NRA, is a non-profit group dedicated to the protection of the Second Amendment of the United States Bill of Rights and the promotion of firearm ownership rights, marksmanship, firearm safety, and the protection of hunting and self-defense in the United States. It was established in New York in 1871 as the American Rifle Association. The NRA sponsors firearm safety training courses, as well as marksmanship events featuring shooting skills and sports. The NRA is sometimes said to be the single most powerful non-profit organization in the United States.[1] It bases its political activity on the principle that gun ownership is a civil liberty protected by the Second Amendment of the Bill of Rights, and claims to be the oldest continuously operating civil liberties organization in the United States. According to its website, the NRA has "more than four million members."[2]
[edit]
Sport and safety programs
[edit]
NRA firearms safety programs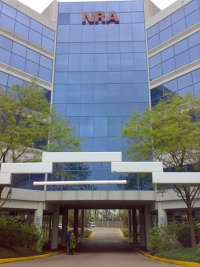 The NRA sponsors a range of safety programs to educate and encourage the safe use of firearms.
NRA hunting safety courses are offered all across the U.S. for both children and adults. In recent years gun safety classes oriented more towards firearm safety, particularly for women, have become popular. Intended for school-age children, the NRA's "Eddie Eagle" program encourages the viewer to "Stop! Don't touch! Leave the area! Tell an adult!" if the child ever sees a firearm lying around. The NRA has claimed that studies prove the "Eddie Eagle" program reduces the likelihood of firearms accidents in the home, and the program is used in many elementary schools nationwide.
[edit]
Shooting sports
Historically, the NRA has governed and advanced the shooting sports in the United States. In recent years, however, its role in the shooting sports has become somewhat less direct.
In 1992 the NRA ceased to be the National Governing Body for Olympic shooting (USA Shooting is now the NGB), and in 2000 the NRA chose not to be a member of the National Three-Position Air Rifle Council. The NRA is not directly involved in the practical pistol competitions conducted by the International Practical Shooting Confederation and International Defensive Pistol Association, or in cowboy action shooting; both of these types of events have grown dramatically in recent years.
However, the National Rifle and Pistol Matches at Camp Perry are sponsored by the NRA, which most consider the "World Series of competitive shooting". Commonly known as Bullseye or Conventional Pistol, shooters from the military as well as many top-ranked civilians gather annually in July and August for this well-attended competition. The NRA also sponsors its National Muzzle Loading Championship at the National Muzzle Loading Rifle Association's Friendship, Indiana facility.
The NRA functions as a general promoter of the shooting sports. The NRA house magazine, American Rifleman, covers major shooting competitions and related topics, and the NRA offers a publication dedicated to competitive shooting, Shooting Sports USA. Most competitive shooters are NRA members.
The current NRA competitions division publishes its own rulebooks, maintains a registry of marksmanship classifications, and sanctions matches.
[edit]
NRA Volunteers
Many NRA Competitions would not be possible without the help of volunteers. The NRA hosts more than 500 volunteers during the NRA National Rifle & Pistol Championships in Camp Perry, Ohio.
[edit]
Grass Roots shooting support
Through the NRA Foundation and Friends of NRA, the NRA also raises funds and distributes grants to local clubs. In addition to competitive marksmanship and gun safety, local programs supported by the NRA include instructor/coach training, gun collector programs, hunting programs, and programs for law enforcement officers.
[edit]
Instructors
The National Rifle association will issue recognition credentials to individuals who are trained by the Association to be instructors. Divisions of instructor are divided into what are referred to as "disciplines". Each discipline earned is indicative that the person is qualified to teach in relation to that area. Instruction in a particular field includes marksmanship, maintenance, and legalities. Instructors are required to teach at least 1 person per year in each discipline in order to keep their certification in that discipline current. There are varied levels of most disciplines, including Apprentice Instructor, Assistant Instructor, and Certified Instructor. This differentiation is primarily a matter of age and legality. A person can become an Apprentice Instructor as early as the age of 15, with upgrade to Assistant upon turning 18, and upgrade to full instructor at the age of 21. Per the NRA's policies for instructors, Apprentice and Assistant Instructors are not allowed to operate a range without a qualified person (such as a full instructor, military, or law enforcement officer) present. Also as per regulations one instructor cannot supervise more than 8 persons on a firing line at any given time. Doing so requires the addition of at least 1 or 2 more instructors. (1 if the other instructor is of higher rank, 2 if of equal rank with one being the de facto leader.) In cases where multiple instructors are present it is not uncommon to have a Range Safety Officer as the senior instructor. Instructors and Range Safety Officers are trained by Training Counselors, who are themselves trained directly by the NRA itself. Instructors are first and foremost responsible for following and teaching the principles of safety, including the "Three Rules of Gun Safety." Disciplines include (but are not limited to)
Rifle
Muzzle-loading Rifle
Shotgun
Muzzle-loading Shotgun
Pistol
Muzzle-loading Pistol
Home and Personal Defense
Range Safety Officer
Training Counselor
Instructors not only teach firearms usage, basic law, and care and cleaning, but can grade students and other persons on the quality of their Marksmanship. Those who score adequately are issued ranks and a certification to that effect by the NRA. While the rules and standards for the ranks depend on the firearm type, the ranks themselves are consistent and are as follows
Pro-Marksman
Marksman
Marksman First Class
Sharpshooter; Bars 1-9
Expert
Distinguished Expert
The ranks Pro-Marksman through Distinguished Expert can be signed off on by an instructor or a current NRA member. The National Rifle Association keeps a list of its registered Instructors and can contact them for those seeking instruction. NRA Instructors can commonly be found at privately owned firearms ranges, and are commonly employed by the Boy Scouts of America on their summer camps. NRA Instructors cannot issue Concealed Carry Permits, or Tax Stamps for restricted firearms types, such writs must be issued at the state, or federal levels of government.
The NRA publishes gun safety rules. Three rules are given special importance and are known as the fundamental NRA rules for safe gun handling:[3]
Always keep the gun pointed in a safe direction.
Always keep your finger off the trigger until ready to shoot.
Always keep the gun unloaded until ready to use.
[edit]
Relations with other organizations
The National Rifle Association maintains ties with other organizations such as the Boy Scouts of America, and 4-H. NRA relations with these groups include monetary donations, equipment donations to supply firearms ranges, and provision on instructors to assist in their programs. Notably the Boy Scouts of America has strict guidelines on who is allowed to operate their ranges, one of the recognized personnel groups are NRA Certified Instructors. (Along with military, and Law Enforcement).
[edit]
Political lobbying
Many consider the NRA to be one of the most influential political lobbies in the U.S. because of its ability to consistently deliver large numbers of votes in elections, as well as its record of campaign contributions and activities in lobbying for gun and hunting rights. Members of Congress have ranked the NRA as the most powerful lobbying organization in the country several years in a row.[4] Opponents of the organization have accused it of unduly influencing political appointments.[5] However, political lobbying is an activity permitted under its 501(c)(4) tax status. Chris W. Cox has been the NRA's chief lobbyist and principal political strategist since 2002.
[edit]
Second Amendment
In its lobbying for gun rights, the NRA asserts that the Second Amendment guarantees the right of individuals to own and use guns. This interpretation emphasizes that the right of the People to keep and bear arms shall not be infringed, and purports to clarify the intent of A well regulated militia being necessary to the security of a free State portion, which itself is predicated on the Founders definition of militia as the body of citizenry at large.
The NRA typically opposes measures which it asserts would conflict with the Second Amendment and/or the right to privacy enjoyed by law-abiding gun owners. It asserts that any attempt to regulate arms conflicts with the second clause of the amendment; the "right to keep and bear arms." The NRA has supported gun rights on other grounds as well—they opposed the Brady Bill in the courts on Tenth Amendment grounds, not Second Amendment.
[edit]
Past elections
[edit]
1980 presidential election
Three days before the November 4 1980 voting, the NRA endorsed a presidential candidate for the first time in its history, backing Ronald Reagan over Jimmy Carter. Reagan had received the California Rifle and Pistol Association's Outstanding Public Service Award. Carter had appointed Abner J. Mikva, a fervent proponent of gun control, to a federal judgeship and had supported the Alaska Lands Bill, closing 40,000,000 acres (160,000 km²) to hunting.[6]
In the 1994 election the NRA is often credited with defeating Congressmen Jack Brooks and Tom Foley (the first Speaker of the House to lose a reelection since 1860). Bill Clinton wrote:
The NRA had a great night. They beat both Speaker Tom Foley and Jack Brooks, two of the ablest members of Congress, who had warned me this would happen. Foley was the first Speaker to be defeated in more than a century. Jack Brooks had supported the NRA for years and had led the fight against the assault weapons ban in the House, but as chairman of the Judiciary Committee he had voted for the overall crime bill even after the ban was put into it. The NRA was an unforgiving master: one strike and you're out. The gun lobby claimed to have defeated nineteen of the twenty-four members on its hit list. They did at least that much damage and could rightly claim to have made Gingrich the House Speaker. - Bill Clinton My Life pp 629-30
[edit]
Past campaigns
Many gun-control laws that the NRA and its supporters fought vigorously have been passed throughout the country. These laws range from the near-total ban on gun ownership in Washington, D.C., to the outlawing of entire classes of firearms in many states as well as at the federal level, to the licensing of firearms owners in some jurisdictions.
Because of a belief that laws should focus on criminals, not hardware, the NRA opposes most new gun-control legislation, calling instead for stricter enforcement of existing laws such as prohibiting convicted felons and violent criminals from possessing firearms and increased sentencing for gun-related crimes. The NRA also lobbies for "shall issue" right-to-carry laws for concealed carry licenses in many states. The NRA also takes positions on non-firearm hunting issues, such as supporting wildlife management programs that allow hunting and opposing restrictions on devices like crossbows and leg hold traps.
One example of the NRA's legislative effectiveness is that, while 7 US states and the District of Columbia still generally restrict the issuance of concealed carry permits ("may issue" or "no-issue"), 38 states have mandatory shall-issue issuance of such permits upon the applicant demonstrating completion of a training requirement or other basic criteria, 3 states have may-issue permits that are liberally issued by local law enforcement, and 2 states (Alaska and Vermont) have unrestricted universal concealed carry without any permit requirements.
The NRA is officially nonpartisan and has endorsed both Democrats and Republicans; however, Republicans tend to share its views more often than Democrats, and this is reflected in the large preponderance of endorsements. The NRA's policy is that it will endorse any incumbent who supports its positions, even if the challenger supports them as well. This was evident in the 2006 Congressional Elections when the NRA endorsed Rick Santorum over Bob Casey, Jr. even though they both had an "A" rating from the NRA Political Victory Fund.
[edit]
Assault weapon ban of 1994
In 2004 the NRA successfully opposed renewal of the federal assault weapons ban of 1994, which banned many features of certain semiautomatic rifles and certain types of removable magazines, against a campaign to make the ban permanent and expand it. The ban expired at midnight, September 13, 2004.
[edit]
Current campaigns
[edit]
Lawsuit protection
As of September 2003, the NRA's focus at the federal level is on a bill to protect manufacturers from certain types of lawsuits. The "Protection of Lawful Commerce in Arms Act" (S.659/S.1806) is also supported by the U.S. Chamber of Commerce, the National Association of Manufacturers, and the National Association of Wholesaler-Distributors, and opposed by many gun-control groups. The Senate amended the bill to extend the assault weapons ban and close the so-called "gun-show loophole", whereupon the NRA withdrew its support; the bill was defeated on March 2, 2004.
A new "Protection of Lawful Commerce in Arms Act" (S.397) passed the Senate (65–31) in late July 2005, passed the House (283–144) on October 20, and was signed by President George W. Bush on October 26, 2005. The bill carried two amendments: requiring the purchase of a trigger lock with any handgun purchase; and authorizing the Department of Justice to study the penetration characteristics of ammunition and make a determination if the ammunition fits the category of "armor piercing". These amendments were rejected by other pro-gun organizations that think these concessions will lead to more restrictions and impetus for lawsuits for those that do not use trigger locks.
[edit]
Confiscations in New Orleans
In the aftermath of Hurricane Katrina, multiple reports of confiscations of civilian firearms by law enforcement began coming out of New Orleans. Warrantless firearm searches of evacuees were carried out prior to allowing them into evacuation centers,[7] house-to-house firearm confiscations were reported,[8] and the superintendent of police was quoted as saying "Only law enforcement are allowed to have weapons" and "We are going to take all of the weapons".[9]
On September 12, 2005 National Rifle Association executive vice-president Wayne LaPierre spoke out against these confiscations. "What we've seen in Louisiana — the breakdown of law and order in the aftermath of disaster — is exactly the kind of situation where the Second Amendment was intended to allow citizens to protect themselves," LaPierre said. The NRA filed suit in the United States District Court for the Eastern District in Louisiana.
On September 23, two weeks after seizures began, NRA and Second Amendment Foundation filed for a temporary restraining order. On September 24, 2005 U.S. District Court for the Eastern District of Louisiana issued a temporary restraining order barring any further gun confiscations and ordering the return of lawfully owned firearms to their owners. On March 1, 2006, the NRA filed a motion for contempt against the city of New Orleans, its mayor, and the chief of police for failure to comply with the restraining order. On March 15, 2006, lawyers from both sides reached an agreement in the case of NRA v. Mayor Ray Nagin, which is pending before a federal court. The city of New Orleans admitted that it holds a number of confiscated firearms, and the Property and Evidence Division of the New Orleans Police Department is to return the firearms to their owners on request and proof of ownership or affidavit. In the chaos and destruction following Katrina many homeowners have, however, lost everything including the paperwork that would prove ownership. At this time (2008) the majority of the seized firearms have not been returned to the rightful owners!
In June 2006 Louisiana Governor Kathleen Blanco signed the NRA-backed Act 275, forbidding the confiscation of firearms from lawful citizens during declared emergencies. Similar legislation had already been adopted in nine other states.
On October 4, 2006 President George W. Bush signed into law the NRA-backed Disaster Recovery Personal Protection Act of 2006 (incorporated into the Department of Homeland Security Appropriations bill). This legislation prohibits the confiscation of otherwise legal firearms from law-abiding citizens during states of emergency by any agent of the Federal Government or anyone receiving Federal funds (effectively, any Federal, state, or local governmental entity). Introduced in Congress by Rep. Bobby Jindal and Sen. David Vitter, both of Louisiana, this bill enjoyed broad bipartisan support, passing the House of Representatives with a margin of 322-99 and the Senate by 84-16.
[edit]
San Francisco's Proposition H
In November 2005, 58% of voters in San Francisco, California, approved "Proposition H" (an ironic name for a law if ever there was one), which would ban the sale, manufacture and distribution of firearms and ammunition (as well as the possession of handguns) within city limits, effective January 1, 2006. (The last gun dealer in the city had closed several years earlier because of a special tax.) San Francisco thereby became the third major city in the United States with a handgun ban, after Chicago and Washington, D.C.
The day after the election, the National Rifle Association and other gun advocates filed a lawsuit challenging the ban, saying it oversteps local government authority and intrudes into an area regulated by the state. (A previous handgun ban, adopted in 1984, was successfully challenged on similar grounds.) On June 12, 2006 Superior Court Judge agreed with the NRA position, saying that California law "implicitly prohibits a city or county from banning gun possession by law-abiding adults".[10]
The City appealed Judge Warren's ruling, but lost in a unanimous opinion from the three judge panel in the Court of Appeal issued on January 9, 2008.
[edit]
Current leadership and policies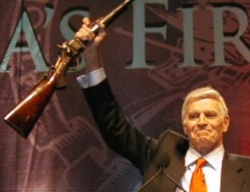 The NRA organization is governed by a large (typically 75 member) board of directors. The directors choose the president, the leading spokesman for the organization, from among their members. Although traditionally this position changed annually, for several years it was consecutively held by Charlton Heston, who was a compelling promoter of the NRA agenda. Heston became afflicted with Alzheimer's disease and stepped down in April 2003. John C. Sigler is the current president, replacing Sandra Froman in 2007. Marion P. Hammer was the first female president, serving from 1995 to 1998.
The organization also has an Executive Vice President, who is not a director but functions as Chief Executive Officer, appointed at the pleasure of the directors. Wayne LaPierre has held this position since 1991.[11] The Executive Director of the NRA Institute for Legislative Action is Chris W. Cox.
[edit]
Finances
Annual revenues for the NRA were around $150 million in 1994, up from $66 million in 1986. It spent $15 million on a new headquarters in the 1990s. The NRA Office of Advancement was created in 2005 to focus on building the NRA's endowment and underwriting programs and projects across the organization.
According to the BBB's web site, the NRA does not fall within their scope of Standards for Charity Accountability. They do note the following financials for the NRA as of December 31, 2004. Their CEO, Wayne LaPierre received a yearly salary of $895,897 in 2004. They also indicated that fundraising costs accounted for 46% of the contributions that they received. They are a 501(c)(4) organization and indicated that their total income in 2004 was $205,402,491. They had expenses of $206,886,970. Their total assets at the end of 2004 were $222,841,128.
[edit]
Popular Culture
The NRA has received both positive and negative criticism in the popular media, and its image has included references in television shows and other forms of popular culture. In 2000, the NRA announced plans (never completed) to open up an NRA Sports Blast in Times Square (New York). [12] The themed restaurant would have featured food, arcade attractions, and other NRA-themed entertainment. The plan received both positive and negative comments in popular media.[13]
[edit]
Criticism
[edit]
From gun control advocates
The NRA is criticized by gun control groups such as the Coalition to Stop Gun Violence, Brady Campaign, Million Mom March, and Americans for Gun Safety, and any others that can be thought of. A variety of newspaper editorial boards, including the New York Times, Washington Post, Los Angeles Times, and USA Today, disagree with the NRA's policies, such as in September of 2004, when the boards called for the extension of the assault weapons ban. At the opposite end of the spectrum, the NRA's anti-government rhetoric prompted former U.S. President George H. W. Bush to resign his life-long membership after they published an advertisement calling federal agents "jack-booted government thugs" out to take away individual gun rights.[14]
[edit]
From other gun rights organizations
The NRA has been criticized by other gun rights groups for doing too little to get existing restrictions repealed, and sometimes helping to draft restrictive legislation. This critique is most often voiced by gun rights organizations and libertarians who take a more comprehensive view of the Second Amendment and Bill of Rights, and are viewed as being less amenable to compromise on these issues, e.g. Jews for the Preservation of Firearms Ownership, and Gun Owners of America. The GOA has castigated the NRA in the past for what it perceives as its willingness to compromise on legislative restrictions concerning access to firearms.[15]
JPFO and its leadership has also criticized the NRA's political strategy on several occasions, lambasting what it views as their counterproductive focus on Capitol Hill lobbying, as well as taking the NRA and its leadership to task for not explicitly making a connection between gun control measures introduced in the United States and those implemented by the Weimar Republic and subsequently "the Nazi regime in pre-war Germany", as well as other totalitarian, or ineffectual regimes that were eventually overthrown.[16] To a certain extent, this criticism has been addressed in recent years by Wayne LaPierre, who has attempted to convince the public that the atrocities committed in Bosnia-Herzegovina during the Yugoslavian Civil War, as well as the Rwandan genocide of 1994, can be traced to a lack of institutional, individual gun rights in those countries.
The NRA has also seen internal dissent from its membership, including a prolonged series of verbal attacks and campaigns initiated by Neal Knox, a former vice-president of the organization who attempted to depose both Wayne LaPierre and Tanya Metaksa, the former executive director of the NRA's Institute For Legislative Action, in leadership elections during the late Nineties[17] which Knox described as putting down a "mutiny".[18]
In addition to the generic criticism voiced by other more absolutist gun-rights organizations and public figures, Knox and his supporters allege that the NRA has failed to protect the rights of gun-owners during debates over proposed federal gun laws. They cite the NRA's involvement in the passage of the Firearm Owners Protection Act, otherwise known as the McClure-Volkmer Act, which amended the Gun Control Act of 1968.[19][20]
Although this represented a significant liberalization of the 1968 Gun Control Act, the fact that the NRA did not seek its outright repeal led some critics, such as Knox, to assert that it had abandoned its members.
Among the broader conservative community, the NRA has recently garnered extensive criticism for endorsing and supporting candidates who are generally perceived as being liberal on several or many other issues, e.g. Senator Arlen Specter,[21] or who have a distinctly liberal position on a hot-button political subject such as amnesty, or whose support for gun rights has been called into question, e.g. Congressman Chris Cannon.[22]
In American politics, conservatives sometimes split over the idea of incrementalism, the doctrine that stresses incremental political gain over an "all or nothing" approach. The NRA is widely regarded as being an incremental gun rights organization. This pragmatism often results in criticism from conservative sources.
[edit]
See also
[edit]
References
[edit]
Further reading
Anderson, Jack. Inside the NRA: Armed and Dangerous. Beverly Hills, Calif.: Dove, 1996. ISBN 0787106771.
Brennan, Pauline Gasdow, Alan J. Lizotte, and David McDowall. "Guns, Southernness, and Gun Control". Journal of Quantitative Criminology 9, no. 3 (1993): 289–307.
Bruce, John M., and Clyde Wilcox, eds. The Changing Politics of Gun Control. Lanham, Maryland: Rowman and Littlefield, 1998. ISBN 0847686140, ISBN 0847686159.
Davidson, Osha Gray. Under Fire: The NRA and the Battle for Gun Control, 2nd ed. Iowa City: University of Iowa Press, 1998. ISBN 0877456461.
Edel, Wilbur. Gun Control: Threat to Liberty or Defense against Anarchy? Westport, Conn.: Praeger Publishers, 1995. ISBN 0275951456.
Langbein, Laura I., and Mark A. Lotwis, "Political Efficacy of Lobbying and Money: Gun Control in the U.S. House, 1986". Legislative Studies Quarterly 15 (August 1990): 413–40.
LaPierre, Wayne R. Guns, Crime, and Freedom. Washington, D.C.: Regnery, 1994. ISBN 0895264773.
McGarrity, Joseph P., and Daniel Sutter. "A Test of the Structure of PAC Contracts: An Analysis of House Gun Control Votes in the 1980s". Southern Economic Journal, Vol. 67 (2000).
Spitzer, Robert J. The Politics of Gun Control, 2nd ed. New York: Chatham House Publishers, 1998. ISBN 1566430720.
Sugarmann, Josh. National Rifle Association: Money, Firepower, and Fear. Washington, D.C.: National Press Books, 1992. ISBN 0915765888.
Trefethen, James B., and James E. Serven. Americans and Their Guns: The National Rifle Association Story Through Nearly a Century of Service to the Nation. Harrisburg, Penn.: Stackpole Books, 1967.
Utter, Glenn H., ed. Encyclopedia of Gun Control and Gun Rights. Phoenix, Ariz.: Oryx Press, 2000. ISBN 157356172X.
[edit]
External links