2004
From Gunsopedia
2004 saw the US Navy acquire several thousand Mossberg 590A1 shotguns, while 10 firing models of the AA-12 were produced and demonstrated to United States Marine Corps.
The US Justice Department under Attorney General John Ashcroft issued "Whether the Second Amendment Secures an Individual Right", a lengthy memorandum opinion tracing the historical development of the Second Amendment supporting its earlier conclusion: the Second Amendment secures a personal right of individuals, not a collective right that may be invoked only by a State.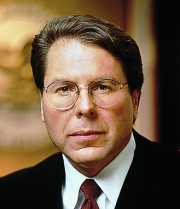 While Ashcroft was writing memos, the
NRA
raised $205,402,491 and had $206,886,970 in expenses (
Wayne LaPierre
's salary accounted for $895,897). Their total assets at the end of 2004 were $222,841,128.
Over in Germany, Mauser-Werke Oberndorf Waffensysteme GmbH was incorporated into Rheinmetall Waffe Munition GmbH, along with several other companies, and Feinwerkbau began manufacturing their History No. 2 Revolver. Meanwhile in Belgium, FN introduced the Enhanced Grenade Launcher Module (EGLM), based on the 'GL1' designed for the F2000.
[edit]
January
[edit]
February
February 13 — The Canadian Broadcasting Corporation reported obtaining federal documents that showed the cost of the Canadian long gun registry (which was originally supposed to cost less than $2 million) had soared to CDN$2 billion.
June 24 — Ontario Justice D. J. Taliano rules in the case of Bardoscia v. Niagara.
June 26 — Two days before a federal election, in a bid to placate the millions of gun owners they had alienated, the Canadian government under Liberal PM Paul Martin dropped all fees for transferring firearms. Canadian gun owners weren't fooled and, sure enough, 18 months later, the Liberals would start promising a handgun ban.
[edit]
September
[edit]
November
November 14 — The Discovery Channel aired the special, "Unsolved History: JFK — Beyond the Magic Bullet," in which they tried to duplicate the path of the fatal bullet. The results were surprising.
[edit]
December
December 9 — A federal grand jury indicted former CFO Denis Shusterman for embezzling $10 million from Kimber Manufacturing and Nationwide Sports Distributors.
[edit]
The year in pictures