Bruce Montague
From Gunsopedia
Where's the rest?? This article is incomplete!
You (yes, you!) can help Gunsopedia provide more comprehensive information to our users by using your own knowledge to add to it.
Bruce Montague
is a
Canadian
gunsmith
and
gun rights
activist from Dryden, Ontario. He is also the father of activist and YouTube personality
Katey Montague
.
Following the passage of Bill C-68 (Firearms Act), Montague became well known in the Canadian firearms community for his unsuccessful court challenge against the draconian gun laws enacted by the government of former Liberal Prime Minister Jean Chretien, when the Superior Court of Canada would not hear his appeal on 26 firearm-related convictions. He was sentenced to 18 months behind bars, to be followed by 90 days of community service, following his December 2007 conviction. He was further ordered to forfeit (without compensation, of course) his entire collection nearly 200 firearms which police seized from his Eton-Rugby home and issued a lifetime firearms ban.
The Montagues then faced further governmental harassment: the confiscation of their home and property by the Ontario government under under "proceeds of crime" legislation passed by the Liberal government of Ontario Premier Dalton McGuinty — an asset forfeiture scheme ostensibly enacted for the purpose of confiscating the assets of criminal gangs.
As of January 11, 2011, Montague is currently serving the remainder of his sentence on parole, having been released following 4 months in custody. The criminal forfeiture hearing regarding firearms and other property seized by police, as well as his family home, is set for May 9 to 13, 2011.[1]
[edit]
Personal life
Montague was born December 13, 1958, in Niagara Falls, Ontario. He married his high school girlfriend Donna Konkle in 1979, during his first year at Mohawk College. He then completed a three year Engineering Technology Diploma in Control Systems (focus on computer electronics) while Donna took a two year course in Data Processing, and got a job as a Computer Programmer before he graduated.
He graduated in 1981 and began working at NCR in Waterloo the same year, in the Research and Development Lab, designing, building, and testing electronic and mechanical equipment for processing cheques at financial institutions. A devout Christian, who had been active in church since childhood, he also became active as a youth leader in the various Lutheran churches which he belonged to, and would continue to work with various Christian youth groups for about the next 20 years.
In 1987, he started a hobby business which included gunsmithing. In 1989 he and his family moved to St. Jacobs, just north of Waterloo and opened a sporting goods store called Monty's Gun and Sport. While it was originally intended as merely a hobby business, it began taking increasing amounts of time, requiring him to hire additional staff to keep up. It also began to make as much, or more, money than his day job.
In
1991
, Montague resigned from NCR and, along with
then-expectant
Donna and their two sons, moved to Dryden (a community of just over 8,000 in the Kenora District of Northwestern Ontario) where he opened and operated two businesses. One was a leak locating business that located breaks in municipal water lines, and he also continued to operate as a full time gunsmith under the business name
Monty's Gunsmithing
. Donna got a job at the local pulp and paper mill in their accounting department.
Shortly after the move to Dryden, Minister of Justice Kim Campbell (PC) introduced Bill C-17 — the start of the large scale gun confiscations in Canada, as many types of guns and magazines were changed to prohibited status under the new legislation. At that time, Montague began to realize that "the gun industry in Canada was in real trouble. But I continued to stick it out and build my business."[2]
By 1994, his gunsmithing business was beginning to bring in a decent income; his reputation was growing with sportsman and he was the armorer for several police forces in the area. At about the same time Bill C-68 came into being and was proclaimed into law in 1995. At this point, Montague feared that gun culture in Canada was doomed to extinction, if something didn't change.
In 1996 he started construction of his wife's dream home (and his dream shop):
First I built the shop for us to live in for about three months. The basement of the house was then built, and we moved into that for the winter. The next three years were spent building as we could afford it. Three years might seem slow, but this is a log home and it was done single handedly during my "spare time" with no outside help (gunsmiths don't make enough money to hire professionals).
— Bruce Montague
[edit]
After C-68
Following the passage of the Firearms Act, Montague became very politically active and vocal, criticizing the parliamentary process and unconstitutionality of Bill C-68 and and actively opposing "the Liberal government's illegitimate gun law by nonviolent public protest and peaceful non-compliance."[2] One of his more controversial methods was to travel across the country and appear at various public events while displaying an unregistered rifle, in an effort to get arrested — Canadian laws are extremely difficult, if not impossible, to challenge in court without first having a conviction to appeal.
[edit]
Arrest
After refusing for several years to arrest him, Ontario Provincial Police officers finally took him into custody on September 11 2004, as he was attending a Dryden gun show while wearing an unregistered rifle on his back. He was arrested and jailed for 11 days for violation of the licensing and registration terms of the Firearms Act. Police officers then conducted a 36 hour search of the Montague home, seizing and confiscating Bruce's firearms, ammunition and other property, including computers, binoculars, scopes and books.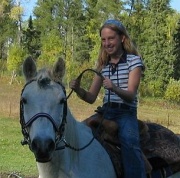 One of the most despicable aspects of the OPP conduct during the arrest of Bruce Montague was their treatment of his then-12-year-old daughter, Katey.
[edit]
References
↑ Garett WIlliams, ""Montague released on parole". Kenora Daily Minder and News, 1-12-2011.
↑ 2.0 2.1 Bruce Montague website - www.brucemontague.ca